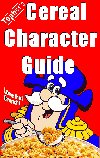 Talkabout interests. I've been finding some ODD stuff that is holding my interest on the net recently. ODD! Today's LotD has got me running circles in my head. I HAVE NO IDEA WTF it's all about. LOVIN IT!
On another note, the HEAT is pissing me off already. If the humidity was listening I'd tell it to leave us alone. As it would be… Nature does whatever it wants. Damn nature thing. GAH!
Okay okay, good news about me car. I found out that the company that sent my paint to the autobody shop MESSED UP! That's right. The paint was BAD! BAD BAD BAD! With a capital BA! It'll be fixed by 11am tomorrow. Weeee hooooooo! I'm going to have my decal put back on ASAP!
Heat… ripping away at my flesh. I'm mell… melt…… mellllllllllltinnnnnnnnnnnnnnnnng! <- meaning -> out