Looks like someone is scared…
Yea, lets look at this constructively. The um, let's see, WORLD! is pretty much behind us. We're still investigating. We don't want to look like animals. What's that mean? We're not going to attack without — now this is odd I know — PROOF!!
Taliban anticipating massive US attack, vows revenge
I was told last night by a friend (a co-worker) that he's expecting something to happen. He was in the forces and is on standy/reserve after completeing his time in the Army. He's an honest man and had a somwhat somber expression when he told me this last night. I'm scared for him and his family. I'm scared for what is going to happen, but there is little I can do to stop it.
NYPost.com – U.S. MAY SOCK BIN LADEN FROM RUSSIAN BASES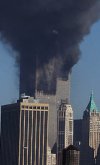 BEDEVILING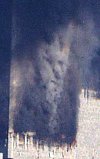 Somewhat good news…
Reuters – 'Black Boxes' Found in Pentagon Rubble-Official
AFP.com – Bush designates Friday as national day of prayer
Ok, let's get real please. I know we want answers but come on, look at this article if you want to know why I just changed tone.
Philadelphia Daily News – BEDEVILING You really need to see this! –>
Let's leave the religious tones behind PLEASE! If, and I repeat IF, Osam bin Laden is found to have ties to these events please remember he and his people did this mostly for their religion views and because of bin Laden's hate for the 'stain of the world' – America. We've got to prove that we're above this type of mentality everyone. We're more intelligent than article makes us appear. Please don't fall for this type of thing. PLEASE. I need some chocolate milk to get my day running.
Oh wait, one last thing,
AP – FBI Investigates Possible Fla. Links
Unreal. Some people say "Hi I'm a terrorist would you like to arrest me now?" and don't think that people will remember it. Again, un-real…<- meaning -> out