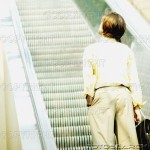 I tackled my first 5.10 this evening. Approximately two months ago I needed to re-learn how to tie-in. I almost gave up because a pair of climbing shoes made it as painful and frustrating as walking on knuckles… on gravel. After a purchase of a novice pair of shoes I've been advancing steadily.
From 5.6, to 5.7 to 5.8, to 5.9, and tonight my first 5.10. My goal for the summer is to climb a 5.11. Before I tackle more 5.10's bouldering is next on the agenda. Why not jump into the 5.10 world now that I've done one? I want to accomplish more than just succeeding in a climb.
Tonight was my first night back to climbing in over a week. I needed to rest my left bicep because I did something silly and difficult – I climbed 1/2 way up a 5.6… without using my feet. It was intense and woke up my arms like nothing else I've ever experienced. It was brilliant. And then my bicep started to hurt. Then my left shoulder. Then my left forearm.
It appeared that I over extended myself. )simles(
I'm glad I did it. It hurt. No, no, no. It throbbed. I nearly lost focus talking to people at The Rock Club because it hurt so much.
But it's all better now! Hmm… Maybe not all better but close to 90%. At the end of my 5.10 which was lead into by a 5.9, another 5.9, and a near complete traverse, I felt my left bicep. It gave me a reminder. "I'm not ready for this kind of night out yet GP. Next time. K?"
I said "K. That's cool. But… Um… How about another traverse?"
Ol bicep keyed in with a simple "W3rd."
And I was off.
Ahh. 5.10. Ding dong the double digit is dead. emma had been the one that pushed the envelope from the 5.7 to the 5.8 and then the 5.8 to the 5.9. I followed along happily. She's been unable to climb a touch longer than me because of a foot injury. Sadness.
Tonight that pattern changed. Jumping to a 5.10 was, I don't know how to phrase it, it was, sheesh, let's see, nope. Nothin'. All I can say is I have this little voice cheering in my head.
The strange thing is the cheering isn't surprise or glee. I think I knew I could do it but I've been on the slow path. emma has been the go-getter. I feel this driving desire to do more 5.10s now but there are so many other techniques I want to work on first. It is such a wonderful sport. I do believe my stomach will be a touch sore tomorrow. Insta-ab workout without one leg lift.
Ha. I climbed my first 5.10 today. It feels good. It feels really good.