How I missed this story? WTF me. Oy! Oy! If you're reading this for the first time… Pass it on. This is… this is HUGE! This is OMG, this is like the invention men've, er, women've been waiting for! Uh, yea.
So yea… Um, anyone tried this thing out yet? Any feedback? Curiouser…

Original Link
Backless g-string revealed
By Dominique Jackson
August 13, 2004
AUSTRALIA could be on the brink of a startling underwear revolution, thanks
to Gold Coast couple Jan and Chuck Digney ("just your average mum and
dad") and their invention: the backless brief.
Brief …but would you wear them?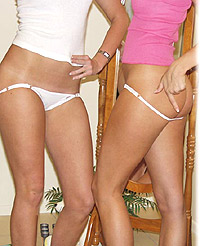 Jan had a visible G-string problem and asked her daughters for advice.
"They said they freebag it, basically, `We don't wear undies Mum."
"Well," says Jan, speaking after a champagne-fuelled lunch to celebrate
the launch, "there's got to be something out there to stop people from
doing that".
She worked through 50-odd prototypes before arriving at a design that replaces
the back with two bra-style straps under the bottom.
"It's like freebagging but you're protected," she says.
The challenge, says Chuck, is to get people to believe they stay up.
The couple has spent $300,000 on the first run of 35,000 and patenting the
invention across the world.
The Australian