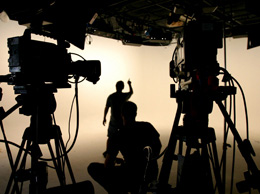 This past week I worked on the set of TO DYE FOR, a short film directed by Richard Dobbs of the Directors Guild, written by Marty Lang, and shot by students of the CT Film Industry Training Program (CT FITP) with guidance/assistance by industry professionals.
This is the third time I have found myself on the set of a CT FITP production. I consider myself to be very lucky to be asked back each year and have been incredibly impressed by the students and teachers. Speaking openly, I would be honored to continue working with the CT FITP next year… If there is a next year. I'll explain that in a few moments. In fact, unless my life takes me away from the CT area I would be thrilled to work with CT FITP trainees every year regardless of my future successes (pending/fingers crossed) within the acting profession.
You can quote me on that.
The interest and passion each class brings to set is inspiring.
Sadly, there are a some things that may put a stop to all of this from happening again though… A lack of knowledge of the industry by CT legislatures, a failure to support a budding industry, politics, etc.
This year may be the last for the CT FITP leaving it with a total of 375 graduates of the program. If this program ran another 3 years there would be close to 1,125 graduates. Imagine that, over 1 thousand people in the state of CT available to step into a production at the drop of a hat. Jobs. Short term and long term revenue. Cultural impact. Remember a film that put CT on the cultural and tourism map? Ahem… MYSTIC PIZZA.
Making a movie isn't easy and there are a vast number of skills needed to make the magic we see on the screen.
You say it's easy? Think again. For three weeks students of the CT FITP learn from professionals what it means to work a/an: Assistant Director, Camera Operator, Script Supervisor, Wardrobe, Grip and Electric, Locations, Props, Sound, and more with equipment loaned to the program by CT companies. No, the state isn't paying for everything. And then, during the last week, they make a short film by putting what they've learned into practice. It's a one of a kind training program. Truly. There is none other like it in the USA, perhaps even the world.
Now you may ask, why would something like this end? Well, there are funds available for the program for next year but it would only cover half the costs. So, unless something happens and the next governor supports the program it may disappear. And with it possibly the future of the industry in CT.
It isn't easy to understand what it means to make a movie or a TV show until you've experienced it. Even then, you'll probably only experience a portion of the magic. There is a reason why these things take a long time to make. It isn't a widget that can be manufactured. Talent and skill is developed over years, heck, decades! to become an established person in this industry.
The next time you watch a short film, regardless of your opinion of the content, take a guess how long it took to make… It probably took longer than you guessed.
If you live in CT and want to see your favorite star in the area or your favorite show, it's possible to lure them to CT. How? Write to your elected officials and tell them you support the Film Tax Incentive and the CT Film Industry Training Program. Both will grow an industry and keep people from leaving the state to pursue their interest in the industry elsewhere. It is only going to get bigger and bigger. Will CT be a part of it? That's up to you.
Check out the two original short films made by students of the CT FITP at Quinnipiac University:
GAMERS – 2008
TIME'S UP – 2009
Good stuff huh?
TO DYE FOR – 2010
It should be finished in about 2 months. =)
Save the Connecticut Film Industry Training Program and the Film Tax Credit
WRITE TO YOUR CT REPRESENTATIVES NOW:
Click on or copy and paste the link below to find your legislators e-mail address or contact page. http://www.cga.ct.gov/asp/menu/cgafindleg.asp
—
Date
The Honorable Last Name
Senator, State of Connecticut [or] Representative, State of Connecticut
300 Capital Avenue
Legislative Office Building
Hartford, CT 06106
Dear Senator Last Name or Representative Last Name:
Please accept this letter as an urgent and personal appeal from one of your constituents who is deeply concerned and alarmed that the Legislature is actively considering a repeal or severe cut to the film and digital media tax credit program and to save the Connecticut Film Industry Training to keep training Connecticut residents for film jobs coming in to this state.
It would be ironic to cut an effective economic stimulus and jobs program as we face an unprecedented economic crisis here in Connecticut. The program has attracted more than $600 million in production investment to the state, companies are locating here because of it, and jobs are being created.
In other states that have more experience, studies are proving that the incentive works:
a. New York: tax credit generates 19,500 jobs — 7,000 direct production jobs and 12,500 from directly related economic activity. State yields $404 million in tax revenue, at a cost of $215 million in credits. [Source: Ernst & Young; Prepared for the Motion Picture Association of America and the film office of New York State, January 2009]
b. New Mexico: tax credit created total employment of 9,210 jobs. State receives $1.50 in tax revenue for every dollar invested in production tax credits. [Source: Ernst & Young; Prepared for the New Mexico State Film Office and State Investment Council; January 2009]
c. Massachusetts: $545 million spent on film production yields economic impact of $1.36 billion. Cost to state is five cents for every new dollar of economic activity. [Source: Massachusetts Film Office; www.mafilm.org; January 2009]
At a time when small businesses and job-seekers are desperately looking for a lifeline in an economic downturn filled with one bad news story after another, this tax credit is just that. In my own personal experience, if the tax credit goes away, the industry goes away, and so does any chance of prosperity for me in this business in the State of Connecticut. [optional: insert here your own story of economic prosperity and/or potential because of the tax credit, including new company, construction, new jobs, revenue growth, etc.]
I hope you will oppose cutting or eliminating the film tax credit, and consider strongly supporting the current program as an effective economic and jobs creation tool for the state, and beneficial for me and others in your home district.
Sincerely,
Your Name