From 01/19/09-02/01/09 the fam, on my mudda's side, voted on a site name with the goal of bringing everyone closer together through the intertubes. I used a Google Form and emailed everyone a link to a static page on my site with the poll embedded. Everyone was asked to choose any/all of their favorites and to forward the poll to anyone in the fam. They were also offered a field to request features. It is now February 2nd 7:40 PM Eastern which means the poll is closed.
And the winner is…
3rd with 3 votes — Helen's Bunch
2nd with 4 votes each — Gramster Fam, Helen's Famila, and Helen's Tribe
1st with 11 votes — Gram's House
Thanks to everyone who voted.

Complete results: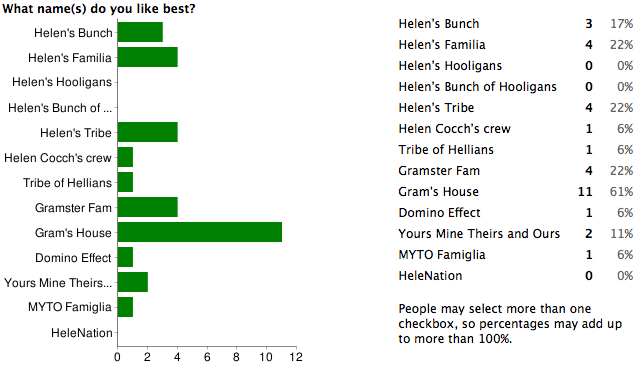 Feature requests: (edited to note specific request)

Birthday reminders and birthday wishes.
Exciting news from whomever to let others know what is exciting in their lives.
Family Tree.
Family medical history.
Weather updates based on family location.
Emergency telephone numbers.
Links to some cool games.
It would be nice if there were a list of birthdays or, like on Facebook, a way in which you can write a birthday message.  It's hard to keep track of everyone's birthdays.
Photo albums and email messages when someone adds something new.
An area for recipes.
Thanks to everyone in the fam for voting and sending in your ideas!
I will now take these ideas and compare the sites I found that offer family-type features and weigh each against each other. I will send an update to everyone once I have that established. If anyone, in the fam or otherwise, is willing to be interested in being a beta tester please let me know.
GP
Update 02/09/09: Added an image of the original survey page below.