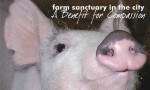 "Pardon me."
"Excuse me."
"You're welcome."
"Have a safe trip home."
"Thank you very much."
During the evening last night I said each of these quotes more than, oh let's be modest, 100 times each. No wonder my feet hurt still. Oh no wait, that's because I stood and walked on concrete for close to 8 hours with no shoes on last night while volunteering last night with emma.

Farm Santuary, an organization "founded in 1986 to combat the abuses of industrialized farming and to encourage a new awareness and understanding about farm animals." Presently there are only two Farm Sanctuary locations in the US, but from what we were told last night it appears that another, or more?, are in the works. Of course no details were shared but I was very happy to hear that another sanctuary is in process. Keep on keeping on with the life altering impact.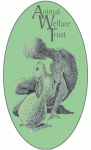 Last night was a night of names: Russell Simmons, Nellie McKay, Gene Baur, Farm Sanctuary President, Dennis Erdman, Hallie Kate Eisenberg, Jesse Eisenberg, Peter Max, Moby, Martina Navratilova, Dan Piraro, Ally Sheedy, Gloria Steinem, Nick Zinner, and James Cromwell. Dare I forget many of the folks from Animal Welfare Trust were also in attendance.
The evening consisted, more or less of the following agenda:
4:00-8:00 Setup
8:00-9:30-ish Food and Drinks, Silent auction
9:30-10:30-ish Entertainment, Silent auction
10:30-12:00 More mingling Silent auction (ended at 1145)
Volunteering is not a walk in the park. My jobs consisted of: Security (watching over the silent auction items, Construction (setting up coat racks and moving tables and/or benches), Gopher (getting more wine and beer (sing along if you've seen Rent) for the other job), Bar-tending (yes'm, emma and I tended to the beer and the wine for most of the night at the "secret table" according to many guests) and lastly Security again (saying good night and making sure people had a receipt for the items won during the auction.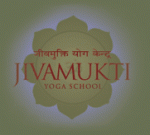 A good night but unfortunately a not so organized evening for volunteers. A large number of volunteers worked the evening but had little, if anything to do. The space "Jivamukti Yoga School" was not the right place for an event with 350+ people. It's a very nice place but the layout created bottlenecks in at least 6 places. Yipes!
It was a highly enjoyable evening, despite the organizational troubles, and I even got to talk with Maria Navratilova about the martini's we were serving (Wine and beer!). Actually, emma an I were lucky enough to hear her interview because she was early to the event and gave her interview just outside the event room.
At 2:00 in the AM we arrived at 11o1 and quickly, ever so quickly plopped ourselves on the bed. The next think I heard were the kittens pleading with us to give them food. It was 6-ish, Richie's alarm was going off and the kittens wanted their morning dish. With one eye open, literally, I couldn't open the other with any will, I stumbled to the kitchen and scooped 1/2 cup of food for each of them.
The next, next thing I heard was emma in the shower, followed by a warm hand waking me from a 'bad dream' – which wasn't a bad dream. Breakfast is had and my feet still hurt. Plans for the day have, wait something is changing I think…. Yup, had us going to NJ to see emma's family. That trip has been reschedule. Sweet. Feet up, movie on, and then later on some homework. Ahhh.
Volunteering… You'll do more before 2am than most people do all day.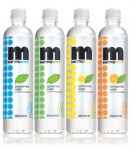 Holy almost forgot Batman! At the Wine and beer table we also served water! Whoohoo! Well, sorta whoohoo! The water was dubbed "Super Cool" with a coolness factory of -9 degree. Designer water. I recall some 5-10 people asking if there was any 'plain' water. Sadly a table with auction items blocked the water fountain. But wait, how was is the water. At first it's pretty decent, but a few chugs in it begins to feel like you're in the dentist office having your teeth cleaned. I want a refreshing feeling not the feeling of a dentist office. There's my quick review of Metro Mint Water. Mmm, mmm… Not so fantastic.