Filmapalooza/Taos Shortz Film Fest
The first weekend of March 2012 I travelled with emma to New Mexico to attend the Taos Shortz Film Festival/Filmapalooza 2012.
"How was the festival?" – many people

"It was epic!" – Gary Ploski
While there I did what I do quite often, I documented stuffs, watched (so many) movies, met (tons of) peoples. Unlike in my normal day to day life I went to a party every night. I did. #pinkyswear
Without exaggeration it was one of the most amazing extended weekends of my life.
And with that tease… Let's go to the video tape YouTube clips!
The Vlogs
Filmapalooza 2012 – Day 1… Introducing the Fest

Source: http://www.youtube.com/watch?v=ePBR4Apjc9k
Filmapalooza 2012 – Day 1… In the Evening

Source: http://www.youtube.com/watch?v=8jwjHcwMj3A
Filmapalooza 2012 – Day 2… In the Media Room

Source: http://www.youtube.com/watch?v=IO5ySK2EM-0
Filmapalooza 2012 – Day 3… With the Shuttle Crew

Source: http://www.youtube.com/watch?v=ZCHc2832BNg
People. So Many People!
Film festivals generally looks like this in a math book: festival + attendance + business cards = chance at getting to know a few people well
This fest looked like this: festival + attendance = make many friends
No. I'm not kidding.
Check out this pic of the Shuttle Crew. We met on the way to the festival, a 2.5 hour drive from Albuquerque to Taos, and spent  so much time together during the fest that some of us are getting together within weeks of the fest ending. Many are planning to visit  each other and then there's the long term plan of working together when the opportunity arrises.
This is not a typical experience for anyone.. Well, except maybe for kids who attend summer camps.
Yea, this was an adult summer camp that took place in snowy Taos, NM!
Click the pic + 'Like' the page on Facebook = 😀
Beyond this group of amazingly nice and talented people there were more people who became friends stretching all the way to Israel, New Mexico, and even New York. Thanks to Facebook we all connected and have access to each other in a restricted Group for those who were involved in the 48 Hour Film Project. Looking to the future, I cannot wait to see what everyone creates and for the chance to work with these astoundingly talented human beings.
To my #48taos tweeps (especially @hannahemac and @tylerdotdotdot)… Thanks for making the weekend awesome in the 'verse. Let's keep the hashtag alive and keep the conversation going.
The Movies

Between Friday and Sunday I watched just under 100 films. You might expect that the caliber of this many films would offer a significant bell curve but that wouldn't be accurate. Each of the Filmapalooza films had won their respective city during the 48 Hour Film Project meaning they'd all been through a gauntlet already. This meant that instead of finding the good films the challenge was to find which films one would  personally relate to during the four screenings.
The bell curve became that of an enjoyment curve. HFCIT!
Before my film, Objects of Time, played I could feel my heart pounding throughout my entire body. I was sooo nervous despite having seen the film more than, I've lost count times. Later on I learned that nearly every filmmaker felt the same way. Everyone felt humbled to be a part of something so good that they didn't want their film to bring the experience for anyone down.
From what I was told by someone who attended a previous Filmapalooza the bar was raised this year and that it was unlike previous expereinces. Does this mean the indie scene is finally 'getting it' and that the entertainment world is on the cusp of a new breed of creator? #fingerscrossed
The best part, after every film screened there was a round of applause in the main room which seated approximately 150 people and in the auxiliary room which seated about 40 people. Every film! It was a love fest of talent supporting talent. Yep, it was that kind of  festival.
Filmapalooza 2012 Winner and You
If you're a comic book fan you will thoroughly enjoy this film. If you like to be entertained you won't be left wanting. Jpixx Films, the team out of Hampton Roads, Virginia, delivers a touching and beautiful film. Enjoy.
In Captivity

Source: http://www.youtube.com/watch?v=SP982c1bts4
If you are lucky enough to be involved in a film that wins a city during the 48 Hour Film Project I strongly recommend that you attend Filmapalooza. I know it's not easy to attend because of layovers and long drives sometimes but tell that to the people who travelled from: Australia, China or South Africa.
The team from South Africa travelled 37 hours to be in Taos. Say that number out loud for the impact it should have on you.
What's Next?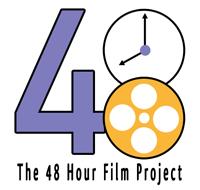 Like I said, I saw just under 100 films which meant I missed some of the films. >ARGH!< Thankfully the Intertubes has been invented and we have YouTube, Vimeo, and Google Docs. I threw together an open spreadsheet so all the teams that have posted their video to the web could share a link to their film with their fellow creatives.
To date 80 films have been added. The rest may be touring the film festival circuit so access won't be available for sometime but I'd say that 80% availbility is per'ty darn amazing. =) All the filmmakers (and their teams) now have access to the other city winner films. <3 the Tubes!
Why do I bring this up if I'm not going to link to it? I can't link to it, I'm sorry, some films have a password noted which means they shouldn't be allowed into the wild just yet. My film, Objects of Time, is one of those films. #isorry
For me, and you I hope, the future is full of excitement.
I'm organizing a team for the New York City 2012 48 Hour Film Project and will be working with the New Haven team again. That's right, two films in 48 hours! But it gets better and wilder. Both will take place in June of 2012. Egad, man!
Mwaahahahaha. June is going to be so much fun!
Your Turn
Now tell me, knowing what you know now, knowing what you knew then… Are you interested in helping a team create a film in 48 hours? If this helps, Filmapalooza will take place in Los Angeles, CA in 2013. (wink, wink)