Anti-Church Hackers of the world unite on this one. While I wonder how this will work out on the web I wonder more how it'll be broken. Will someone be sitting next to a demon during the service? If so is that so wrong? Doesn't a demon have the right to pay homage to a god of their choosing?
Aren't people supposed to be quiet during service? I remember friends telling me about times they were scolded during a mass by the priest. Oh yes, this WILL be interesting. All in all, if and when this goes live the net will never be the same. One might even say 'all hell is going to break loose.' but that's only what one would say. 0= )

Original Link
Glimpse inside the virtual church

The
preacher, congregation and prayers will be real enough. Only the
building will be virtual – but this 3D church could be a taste of
things to come.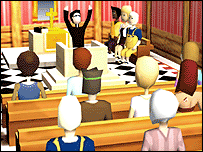 Virtual worship
This is the view inside what's believed to be the first
virtual church, due to be launched next month as part of a scheme to
reach people who would not normally step inside an actual church.
The rafters, pulpit, altar and pews look real enough, in
a cartoon-ish way. But the preacher and members of the congregation
will actually be real, connecting via the web to each other to take
part in real services.
The church, to be known as the Church of Fools, is being
created for the Christian website Ship of Fools, which last year ran a
virtual reality gameshow based on Noah's Ark.

People will choose a pew to sit in, introduce themselves to other
worshippers through speech bubbles, sing a hymn, listen to the
sermon…


Website editor Simon Jenkins says: "Some websites help people meditate
and pray, but no one has built an interactive 3D church environment
before – complete with gothic arches and hard wooden pews."
A real-life vicar will control the actions of a cartoon double, including welcoming the flock, announcing hymns and preaching.
"In different parts of the world, the congregation, too,
will log on and become cartoon characters – and see each other
on-screen," says Mr Jenkins.
"They will choose a pew to sit in, introduce themselves
to other worshippers through speech bubbles, 'sing' a hymn, listen to
the sermon, chat to each other afterwards, perhaps pray together. "
The congregation will also be invited to donate – a collection will be taken via SMS billing.
Although an unofficial move, the virtual church may well
receive approval in the church hierarchy. The Archbishop of Canterbury,
Dr Rowan Williams, has called for the church to become more
"mission-shaped" by adopting new forms of worship, which could include
new ventures such as "caf? churches".
Real parish
But the Church of Fools could be an indication of how
churches could develop. For instance, the diocese of Oxford is
currently recruiting a "web pastor" to establish its own virtual church
– "i-Church" – which will be considered a parish church in its own
right.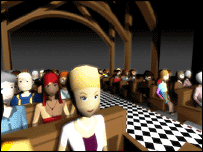 A congregation of online volunteers
Its intention is to appeal to people who cannot get to
church, people who do not want to go to a church building, or those for
whom going to church on a Sunday is not enough.
The format of the i-Church has not yet been decided, but
the Reverend Richard Thomas, director of communications for the Oxford
diocese, says unlike the Church of Fools, it will not have cartoon
graphics.
"We don't want any animated bells and whistles," he
says. "We want to focus on real human relationships that are based in a
real community, rather than media-driven interactivity."
When the Oxford church is functioning, members will probably
communicate with each other through web chat or instant messaging. Services
may be held in video, but the details are yet to be decided.