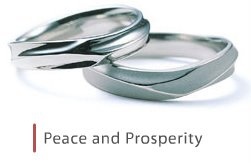 How did that happen!? All of a sudden — Poof! I'm single. The ring (displayed to the right) is gone. And it didn't even cost me anything! No heartache. None of those money things. None. Nada. Zip.
OK I did lose something. My ring finger is lighter. Less with the weight. Pullin me down. Oh so low. Down, down, down.
The good news. Yes! There is good news in all this. Stay with me here.
It'll all be over in six week. That's all this process will take. Whoa! Strike that. Five weeks. Wow! That first week flew by like a rocket. Good stuff. Ho-lee! Right. By the 23rd of May things will be… Gosh, how do I say this.
Well, they'll be back to the way things were back on Jan 7, 2006. My ring will be just like new thanks to the supreme customer service kindness of Kazutoshi (he's the main man in the NY location) and Machiko (formerly of Niwaka now with Kiteya in Soho). Niwaka provides a free cleaning service within two years of the purchase. Well, due to the Soho store closing and the timing of the Grand Opening (Dec 2007) I wasn't able to take advantage of this fantastic service.
An email or two later things were organized for the service. I just needed to find time to get to the store. Last week emma and I zoomed into the city, dropped off the ring and then zipped east to Candle Cafe for dinner. Yum. Yum. And yum. I think I could eat their food daily.
With the ring in Kazu's hands the ring has be sent back to Kyoto, Japan for the fixin up'in. When they do things they do em all the way. It was made there. It'll be fixed up there. And that's just the way it is. Squee!
So, by the time I walk at commencement my rockin ring will be back from Kyoto uber fixed up and ready for the camera. Six Four!