I find this to be extremely uncomfrtable and funny at the same time. Someone at Barbie appears to have thought something like:
"Let's take this vibrant attractive characters and make them… hmm… a SET! YES! They'll never miss the fact that we completely ignored the real Barbie and Ken in the movie – Arwyn and Aragorn! BWAAHAH! Er… I mean… )evil smile( yessssss"
I really do find this choice unsettling. It feels "wrong" somehow. Check out a pic – click on Read More.

Lord of the Rings Barbie and Ken as Galadriel and Legolas Collector's Dolls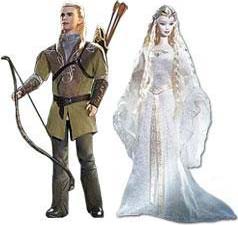 Buy these Galadriel Barbie and Legolas Ken dolls together and save! Inspired by The Lord of the Rings: The Fellowship of the Ring, Barbie as Galadriel wears an exquisite stretch mesh gown. Decorations include a "shell" medallion and glitter printed satin ribbon belt. Shoes and a crown complete the beautiful costume. Her long flowing hair covers pointed elven ears. Ken as Legolas wears a striking costume complete with earth-toned tunic and pants. His long flowing blond hair features two braids in front, much like the hairstyle worn by Orlando Bloom in the film. Pointed ears, boots and gauntlets complete his elven ensemble. Tall and fair, bright-eyed and noble, this doll is sure to win your heart. Available in very limited supplies. Order today before they're all gone!