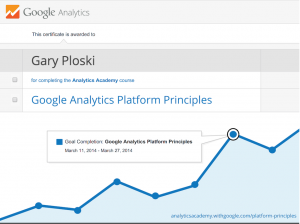 On my list of Google Certificates the Google Analytics course managed to slip through my schedule at least two times.
Thankfully a new course was announced soon after I moved to Portland, OR and the deadline to finish with the certificate was late in the month – March 27th which means you can take the course!
Head over to sign up to be notified about future online courses or get started on your certification at https://analyticsacademy.withgoogle.com/.
A Quick Personal Take
The Analytics platform is amazing. The features it offers are so wildly robust that it's possible to spend hours navigating it and tailoring it to your needs. For my own needs the basic information available via the dashboard is more than enough. Something I was not fully aware of was the ability to filter out IP addresses in through the Filter settings. If you don't want your personal traffic included in the data head over to that setting and make yourself a happy camper.
Based on a Google Hangout I watched during the time this online course was available I learned that Analytics is going to change in big ways for the better soon. Keep an eye out for announcements and what it might mean for your site's Analytics data.
If nothing else I now have a better understanding of the Analytics platform and look forward to future online Google courses. Why? They're free, self paced, and learning is fun!