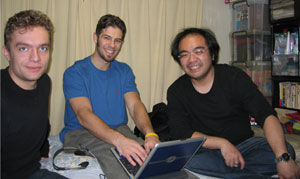 Kazi, Jacek, and I bid thee konichiwa as I write this entry.
The day started off well even though there was a flat tire incident at JFK. Thank goodness for spare tires.
13 hours later on the easiest flight I've ever had flying to Japan. I slept nearly the enitre flight and experienced little to no head pressure during the decent. Stoked was I.
After that we planned on dinner at Ducky Duck's but they were too busy so we hit the most available. Kazi's mom had treats for us and now we're ready to chat and chill at 1:19AM Monday. Yes, it's 11:33 AM Sunday where this server is… But who's keeping score.
Off to enjoy Nippon I/we go!
01-09-2005 11:22 am