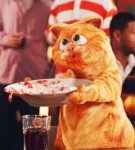 Thank god for sanity! Yes Virginia, there is a Santa Claus and yes Virginia, there are skinny models too. In the US at least. The Council of Fashion Designers of America (CFDA) said their "Health Initiative is about awareness and education, not policing,"
Going on they added "While some models are naturally tall and thin and their appearance is a result of many factors, including genetics, youth, nutritional food, and exercise, other models have or develop eating disorders,"
I am still reeling over the fact that Madrid and Italy have instituted bans based on strict numbers via BMI. This does not allow for many variations based on age, genetics, etc.
What is probably one of the most ironic things about this whole ordeal is that the US i facing a pandemic problem with obesity but is approaching this topic with the most level headed ideas to date. Sometimes I get to be proud of this country. Well done CDFA. Well done. It almost brings a tear to my eye. Actually… It doesn't in any way at all. Ahh. I can sleep easy knowing more education and healthier eating will be served. Seconds please.

Original link
New York fashion council says no ban on skinny models
Fri Jan 12, 1:26 PM ET
Despite growing concern about skinny waifs on the catwalk, the top US fashion designers' group said it would not ban underweight models but instead called for more education on eating disorders.
The Council of Fashion Designers of America (CFDA), which founded New York's fashion week and still plays a key role in the event, said it would not follow some European authorities who have set body mass index requirements for models.
"The CFDA Health Initiative is about awareness and education, not policing," the group said in a statement, releasing the guidelines ahead of castings for next month's fashion week.
"Although we cannot fully assume responsibility for an issue that is as complex as eating disorders and that occurs in many walks of life, the fashion industry can begin a campaign of awareness," it said.
It added that being skinny did not necessarily mean models were anorexic.
"While some models are naturally tall and thin and their appearance is a result of many factors, including genetics, youth, nutritional food, and exercise, other models have or develop eating disorders," it said.
"Eating disorders are emotional disorders that have psychological, behavioral, social, and physical manifestations, of which body weight is only one," it added, calling for a more general approach to the problem.
The group recommended educating the industry to identify the early warning signs of eating disorders and suggesting models suffering such conditions be required to seek help before being allowed to continue modeling.
Its suggestions included establishing workshops on the nature of eating disorders, providing regular breaks and healthy meals at shoots and promoting awareness about smoking and underage drinking among models.
The guidelines were drawn up by a CFDA committee composed of designer Diane von Furstenberg, the council's new president, a nutritionist, a psychiatrist, a trainer and a representative from a leading fashion PR firm.
Vogue Editor Anna Wintour and an agent from the top modeling agency DNA also attended the discussions.
The issue of skinny models came to a head last September when Madrid authorities banned models who failed to meet a certain weight to height ratio from a major fashion show to avoid sending the wrong message to young girls.
The debate intensified with the death in November of Brazilian model Ana Carolina Reston, who suffered from anorexia. Sao Paolo's fashion week has since announced it will run a public information campaign on the condition.
In Italy, authorities and fashion designers last month adopted guidelines banning models if they do not meet a body mass index equivalent to 55 kilos (121 pounds) for someone measuring 1.75 meters (five foot seven).
Former CFDA president Stan Herman last year ruled out a ban on skinny models at New York's twice-yearly fashion week, saying such rules could expose the organizers to legal action.
"It would be the same as banning somebody who's too fat," he told AFP in September. "Those people could sue… I wouldn't touch it with a 10-foot pole."