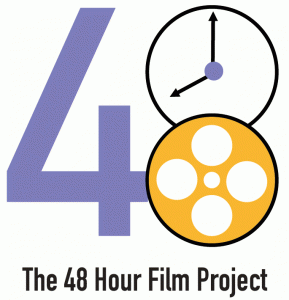 On August 6th I arrived to New Haven, CT at 7 AM to work with a team of filmmakers I'd clocked in a total of 0 minutes with on-set.
To repeat for emphasis, ze-roh, zero.
The director, Michal Trzaska, of Mehow Design, and I met and talked for about 5, mayyyyybe 10 minutes, at a Film Industry Mixer (FIM) in CT on April 16th. I knew I wanted to work with him just after speaking with him and was locked into that idea after viewing some of his projects.
Thank goodness I screened my acting reel at the FIM. That's how he learned about me. Actors, yoo-hoo! – over here, screen your reel at every and any event possible when they ask for submissions.
While on vacation in Kennebunkport, Maine I saw, I think on Facebook, that the 48 Hour Film Project (48 HFP) was going to take place in CT for the first time. I clicked to the page and saw that it was taking place in New Haven. "Wait, what?! New Haven!? Connecticut? That's awesome, finally, I wonder how many teams have signed up." (click)
I found myself on the 48 HFP New Haven page. What did I see? To my astonishment a name I recognized… Michal Trzaska. I was on vaction but there was no reason to rest on my laurels so I shot off an email and hoped that this would offer me an opportunity to work with him.
Little did I know what would unfold.
The days leading up to the competition I was in the loop with everyone but nobody knew what would be shot because of the way the 48 Hour Film Project works. We would be told our genre, prop, character and line of dialog Friday evening. With so many variables in play who knows what will happen.
The evening before the shoot I went to bed early with no knowledge of what I'd be doing the next day. After waking up I saw two emails from Mehow, aka Michael, saying:
11:30ish PM – We have a part for you, keep the facial hair we will have you shave on screen.
I'll be writing another blog soon about the facial hair (aka giving a director options) thing. Done…
Male Actors, Give Directors Options with your Facial Hair
http://garyploski.com/male-actors-give-directors-options-with-your-facial-hair
and
2:24 AM – We are finalizing the script and we have a great part for you. Lead part.
Emphasis added by me.
I had hoped for "a" part.
You know, one where you get to work with someone and say to yourself "Cool, I worked with so-and-so." And for those not feint of heart "Now I know if I want to work with so-and-so again."
So, there I was, arriving to a relative strangers house to shoot a film. What was going to happen?
When I saw the two, yes 2, Canon 5D Mark II's I knew the picture could, not would, look awesome. Little did I know that the DPs were über talented. Could? No. Capital would with an exclamation mark dropped in for good reason.
I also learned, late in the day, after we shot if I recall correctly, that many, if not most, of the team did not know each other. There was a core group of people who knew and worked together but not everyone. Someone from Minnesota(!), Evan Taylor, flew in to join the team. His story about joining this team is far more interesting than mine.
All that said, I was thrilled to be on-set and to have a solid (2 page) script in my hands. The day went exceedingly well. We wrapped principal photography in about 12 hours leaving our two editors nearly 19 hours to edit. They did need to sleep so that probably trimmed some time off the clock. Hehehe.
On August 11th all the teams came together to see what had been created during the past weekend and votes were cast on the Audience Awards. Two judges would handle the 48 HFP awards. Yesterday, Saturday, the announcements were made.
Epic. That's what the results were for the team I worked with – Clear Lens. Epic!

Our film, Objects of Time, won big!
How big? A sweep kind of big.
Best Film
Best Directing
Best Acting <– That's me! =D

Best Writing
Best Editing
Best Cinematography
Audience Award
All day team Clear Lens was plastering the news all over Facebook. I also hit up Google+, Twitter, Stage32 and my acting site. I think everyone was on the phone. It was a magnificent team and is a fabulous film. I cannot wait to show it to you!
My hat is off to team Clear Lens and all the other teams who competed in the FIRST 48 HFP in Connecticut! =D