Bored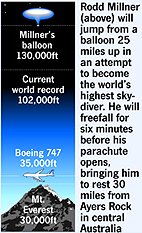 I have not said that word in a loooooong looooooooooooooooooong loooooooooooooooooooong time. Kinda feels good to say it. I'm bored. Ahhhhhhh. >>>yawn<<< This feels pretty cool. I don't want to be like this tomorrow of course. I'll go stir crazy. I hate going stir crazy. It usually takes me a day or 20 to get back on track. There is a guy in Aussie land that isn't bored. NO nonononononononono! Far from it actually. Check this out:
Skydiver to jump from 25 miles up
He appears undaunted by warnings from scientists that the descent through near-space could be so fast that his head will explode.
I jumped twice at 14,000 feet and it was a rush, but I didn't have to worry about my HEAD EXPLODING! LMAO! I gotta go, that's too much. He appears undaunted! HAHAHAHAHAHAHAHAH..<- meaning -> out