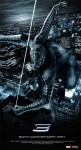 Yesterday I received an email with the subject: Big PROBLEM
The body of the email was, unknowingly at the time, going to be life altering.
I clicked on the email and read: "I HAVE TWO TICKETS TO THE WORLD PREMIER OF SPIDERMAN 3-APRIL 30TH."
How? What?! I responded in amusement knowing it would have been fun to go but the other recipients were sure to be the invitees. Well, at least one of them would be.
emma's papa somehow managed to alter the ground I stood on when he wrote "You're going." I could only respond appropirate of course: "I'm not worthy! I'm not worthy! I'm not worthy!" His response "Yes I know but you're going anyway."
emma and I are going to Spider-Man 3 on April 30th in Astoria (Peter Parkers playground!) for the Premiere!!! HFCIT! (How friggin cool is that!)
While speaking to Marty I said "I don't even know how to understand this." It is very, ultimately, never gonna happen rare to go to an event like this. Hahah, the only thing that would cap this off in brain popping style would be to win tickets to the Japan Premiere (but that's definitely not going to happen).
In 20 days I will be in fanboy heaven. Seeing Spider-Man 3 with emma, Peter, MJ, Harry, Eddie, J.Jonah Jameson, Sandman, Gwen, Aunt May and a rapid group of fans. Hoooooly web cartridges batman! Thwip-ing will be in the house!
Special thanks to Alex who said: "I think it's pretty obvious which 2 supernerds should go considering I hate that trilogy." Two small tidbits though Alex… There are only 2 movies available in the Spidey series (at present) and the word you were looking for is superfanboys or supergeeks. Though you will likely argue supergeeks are the same thing. Ahem, let's see… Uh, no.
And Monumentally uber thanks to F.I.L/pop-sie. Wow. Just simply wow.