Two days ago (Wednesday) I experienced what will very likely become a new hobby in my life – indoor rock climbing. Q, Jacek, emma, and I went to The Rock Club for 'Climbing 101' on Wednesday at 7. We arrived on time, went through 3 or 4 different sizes of shoes and then found ourselves in the training room with Nobody (One of Noel's nicknames).
Three plus hours later we left feeling quite accomplished and sore. Backs, arms, legs… Name it, it's beat up when climbing. Nobody Noel was patient and explained things very casually. He wanted to teach us about something he is extremely passionate about. And teach us he did.
Q had bit of trouble with the knots. Jacek tried climbing down instead of belaying. emma saw so many colors she wasn't sure what to grab and I fell while trying to reach for a hold that was a bit too far away. We all experienced a down or two. But, oh yes but, there were many more 'ups' throughout the night. Everyone impressed each other and themselves. What a great pick me up.
The night was not high paced and so it felt long. It was well worth the time. Learning to tie the rope. Practicing the art of belaying. Refining vocabulary to quickly and effectively communicate. Oh yeah! It was uber pump up the jam good.
With the highest recommendation I can muster I say… Go to The Rock Club! Oh, bring a few friends and get a discount too. Cha'ching.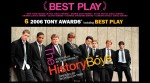 This evening we ventured out to see The History Boys. Before we entered the theatre we stopped at the Angus McIndoe restaurant. I had the an-roasted organic, free range chicken marinated with buttermilk and rosemary, served with garlic-mashed potatoes and sautéed spinach for $19. Free range chicken?! Advertised on the menu?! What the truck?!
It was mind blowingly flavorful. The service was great and the dessert – Milk chocolate-peanut butter parfait with concord grape jelly sauce – Yah-mmm. I never would have ever thought to put concord grape jelly on any form of dessert. I may now have to rethink desserts. = D
A quick review of The History Boys… It was very entertaining with some thought provoking concepts built into the script. Many of the one liners and much of the dialog went over my head. I hope it's mainly because it is a UK based play talking about the UK based school system in the 80's.
Technically the show was rockin! Scene changes… Oh yea. This is how tech fits into the land of theatre. The story felt like a flow with no interruptions thanks to the wonderful scene change portions of the play. Acting… These guys came over from the UK for a reason. They. Are. Kick. Ass. Nearly every role is flushed out through the script and if it wasn't the actors made sure that the audience saw their version of the character. No two boys were alike.
The philosophy of teaching takes the lead role in the script. Which way is best? I can't say I understood the entirety of everything in the show (partially due to a scene taking place in French) but I can recommend it.