It's a good number – 66. In just 66 days my girl and I will be on a plane bound for Kaua'i, Hawaii for 11 days and 10 nights. We decided that a honeymoon needed to be a honeymoon. It feels like the modern honeymoon is standardish ala a vacation somewhere for a week. Seven days does not equal one week when traveling is involved. We're set. We're ready. We're in the busiest month of the semester! = )
Today was a long day. Work – normal. I trekked home, ate, and then took off for rehearsal which went from 7-10. We are now rehearsing (mon 2 + tue 3 + thu 2 + sat 4) 11 hours per week on War Music. It's rough sometimes but it's worth it. It's going to be such a great phenomenally fun piece that SLC doesn't normally present. This show is what story telling is all about. A section of the Trojan War told by 7 people. Four women and three men.
I walked by a rock on my way home tonight and thought about the script. It was where I first read the opening pages. At the time I was exhausted and unfocused. I became uninterested in the piece but hoped it would become something cool. Thank you fortune. Please do keep smiling down on me. I'll keep smiling back.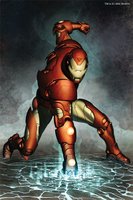 In typical me fashion I'm celebrating something! The end of the semester! But it's in May Gar. Yes it is. And I'll treat myself in July, August, or September with the Iron Man Comiquette. It is based on The Invincible Iron Man #76 (pictured to the right), painted by fan favorite artist Adi Granov.
I'm so far ahead of treating myself in fact that this item wasn't even purchased this month. No. It was purchased on March 21st. Yes, Iron Man will be seated beside all the other mini-busts and random comic "stuff" but I have to sit tight, rehearse, perform, work, sleep, work out, travel to Kaua'i, and even wrap up the summer events (most likely) before I get to see my treat. So does this make me selfish or plain out there? How many people treat themselves two months before something is slated to end and two – four months after the wrap up. Ummm….
It wasn't the smoothest of days. I started off in land of the unfocused, enjoyed a walk to work, it's been nice lately, did the day and evening thing and wrapped up with a very tired emma and a gui-less Evynne up at UCONN. 45 minutes later she's in need of a installation disk. So sad. Stupid OS X breaking. GRAH! Now super sleepy. Bed thump-thud-crash time