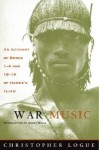 I am extremely excited to announce a performance of War Music. Sarah Lawrence College's Acting the Poetic Text (professor Michael Early) class presents WAR MUSIC: Patrocleia (an account of books 16-19 of Homer's Iliad) by Christopher Logue.
No music, no scene changes, no cross fades. This is a story that will be told by 7 actors (Le'Mil Eiland, Kathleen Kreiser, Aaron Matteson, Rachel McKay, Tess Mix, Alison Walls and Gary Ploski) with nothing but 4 stools, 3 chairs, and their bodies. Seating is limited as this is a black production. Expect to be a part of the show war. Please sign up in the PAC at SLC or advise me so I can put you on the list ASAP. (Update: There is no sign-up sheet.)

April 27 (Thursday)
April 28 (Friday)
April 29 (Saturday)
Heimbold Visual Arts Center Soundstage (lower level)
8:00 PM Curtain
04/27/06 — Saw the show? Write a review/comment.